This is Sophia, my friend whom I've known the longest. We've been pals for... let's count... 25 years now. That's a quarter of a century!
The furry thing beside her is Miu, the very first cat Sophia owned.
Miu is Australian. She was bought from a pet shop in Melbourne when Sophia was still in uni then. This Domestic tortoiseshell is about 9 years old now and weighs 5.5kg. Sophia tells me that Miu is one cat loaded with attitude.
"She showed the dog who was boss when we first got her," Sophia says. "She was TINY then. When the dog tried to check her out, she stood on her hind legs and scratched the dog's nose. From then on, she was the big boss! Hahahah!"
Sophia describes Miu as "highly intelligent and highly attitudinal! Loves canned food (fish only pls!). Boss of everyone."
Does Miu get along with her other cat, Boo? "Sometimes she entertains him when she feels like it," says Sophia.
And this other kitty below is 8-year-old Boo. He is a Domestic black-and-white and weighs a hefty 7kg.
I call him The Cow.
Like Miu, Boo was also bought from a pet shop in Melbourne for A$75.


Sophia describes Boo as "FAT, sweet-natured and behaves like a dog. He comes when you call and he used to fetch."

But Sophia complains that Boo "doesn't like to move".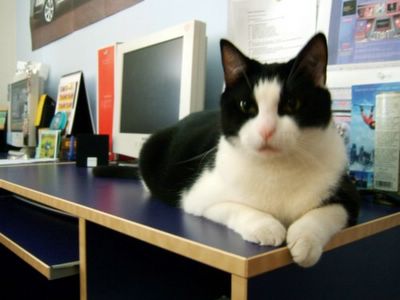 "He doesn't move much these days," she says.
Boo is soooo fat, I've asked Sophia to put him on a diet and an exercise regime. But she insists that he eats very little, and that Miu eats more than him.
Sophia tried to get him to play games, like chasing a ball, to help him fight the flab. But it seems like they never caught on with Boo. He just didn't take to games.
So fat Boo has raked up a total weight loss of 0kg. His exercise programme continues to be non-existent.
"But he's happy," Sophia says.
Photos courtesy of Sophia & Ken Ming
~5-Cat Style