How exciting!
Zeus, a furry handsome ginger from an expensive-sounding state called Taxes, held the cat blogosphere's furry furst Legends Ball.
Amongst many furrbulous cats and beans, Zeus has honoured my Foster Mommy (5-Cat Style) and her sister (The Flyer), who is also my Godmommy.
You are furry furry kind to do this, Zeus! *headbutts Zeus*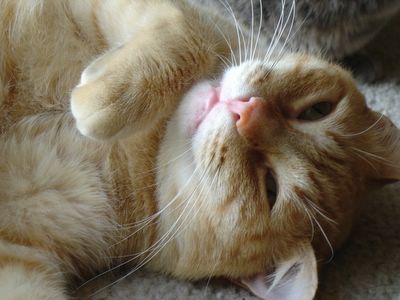 Zeus the gee-nee-oohs cat
Please check out
Zeus' furry special event
and his list of honourees. The list includes
Pyschokitty Max
(the furrst feline blogger),
Alisha
(a furry kind bean who cares for a kitty who needs to be diapered) and
Zuleme
(another kind bean who promotes no-kill animal shelters).
I'll definitely be working on my list of nominees fur next year's Legends Ball. Oh, this is such a good idea, Zeus! You're a true gee-nee-oohs.
I leave you now with a pikshur of my Foster Mommy on one of her home visits to make sure that my bruffer and I are doing fine in our Furever Home.
Thank you, thank you, thank you for thinking of my Mommies!
The tender touch of my Foster Mommy
~Bombay