Over the weekend, I watched The Cat Returns, an anime by the same creators who made the very charming and heart-warming My Neighbour Totoro, and the stunningly fantastical Spirited Away.
The Cat Returns is quite charming too.


It is about an ordinary school girl who saves the life of an extraordinary cat. In return for her good deed, she gets rewarded with catnip, a lawn covered in cattails, box-wrapped mice, etc, by all the neighbourhood cats.


Suddenly, she gets whisked away to The Kingdom Of The Cats where she is to be married off to the Cat Prince, whose life she had saved.
All this is done against the poor girl's will, of course.
So you get the idea... I won't say much more. I don't want to give too much away.
You'll get to meet some pretty fascinating characters. There is a Phileas Fogg-Zorro type of cat called The Baron.


The Baron looks and acts very much like Phileas Fogg...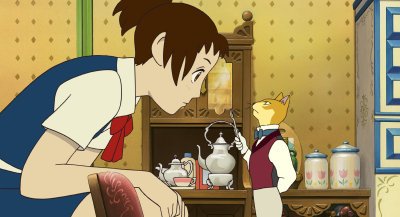 ... but is capable of pulling off the most amazing Zoro-like stunts.


There is also a fat, cranky, smug cat called Muta...


... who proves to be quite the comic relief and an equally agile stuntsman.
But, first... you'll have to get past the stereotypical portrayal of the goodies and the baddies, the commoners and the royal folk.
Let me ask you... what's wrong with the picture below?
In this anime, The King is a Persian cat, his Advisor is a Siamese... but the servants carrying the King are all Tabby cats.
Even the starving stray, who grows up and ends up marrying the Prince, is a pure white cat with blue eyes.
So you get the sense that only pretty cats enjoy the good life.
But, if you can put that aside, you'll enjoy this anime movie greatly.
Just one suggestion... I highly recommend watching The Cat Returns, and any other anime movie for that matter, in the original Japanese language with the relevant subtitling for you.

Whatever language you may speak, please watch this in Japanese and NOT in its translated version.
Somehow, after translation, the whole feel of the original movie is somewhat changed.
The changes in the wordings of the sentences end up altering the intended mood, and the alternate actors' voices just can't capture the same energy and innocence as the Japanese actors.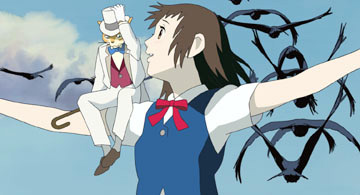 While My Neighbour Totoro still remains my absolute favourite anime, The Cat Returns has its place on my shelf of Most-Watched Lazy-Sunday DVDs.
I know you'll enjoy this.

~5-Cat Style