Yesterday night, we were given our new Catango Champions. They are none other than our very own…
... fiery Bombay and...
… and sensuous Bonnie.
Congratulations to the winning couple!

It certainly was not an easy competition to win. There were over 30 couples to beat. But with each round, Bombay and Bonnie proved to be the stars on the dance floor.
The judges' votes were unanimous and Bombay and Bonnie were declared 2006's Catango Champions, and were awarded the prestigious Catango Diamond Award by the International Catango Federation.
Don't kick yourself for missing the hottest couple on the dance floor. There is still a chance for you to watch them in hot Catango action.
Bombay and Bonnie will be performing at the Annual Catango Extravaganza this Saturday, 26 August. It will be held at the Purris Hilton Ballroom at 6pm. Ticket prices range from $200 to $500.
If you're a fan of this sizzling couple, don't forget to wear the official fan club t-shirt. It is on sale at your nearest departmental store.


Those who are unable to attend the Catango Extravaganza can still catch all the action when the CD & DVD recordings are released in October.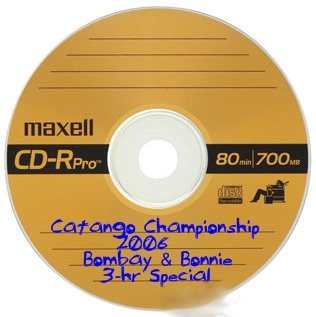 Otherwise, buy your tickets now! Don't miss the hottest, sexiest Catango couple of the year -- Bombay and Bonnie.
~ 5-Cat Style
Reporting for the Purrfect Times Wednesday Edition